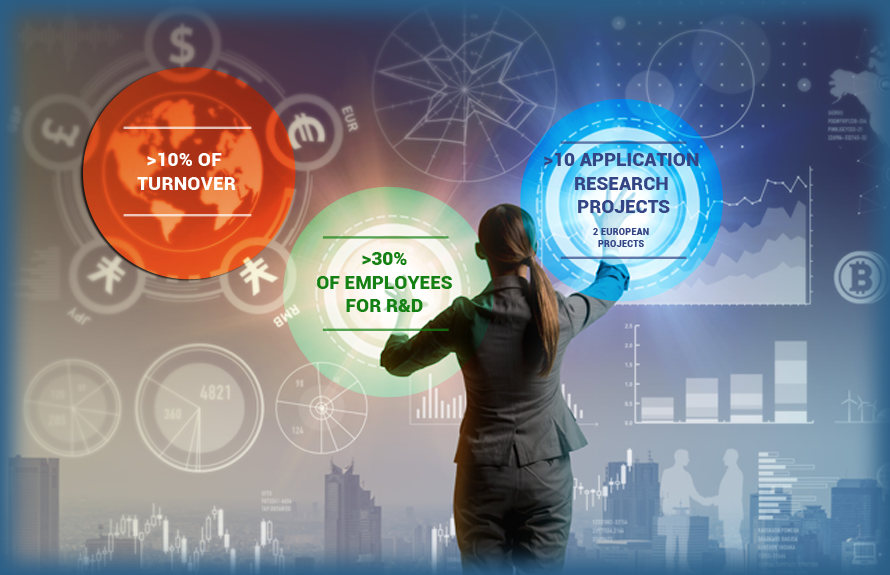 Innovation is at the heart of ARELIS' strategy and has been devoting a significant part of its resources (15% of its turnover) towards innovation for more than 10 years, not including tailored projects based on client specifications.

The R&D teams are supported by experts focusing on two main aims:

- Develop product lines and construct application domains in an attempt to broaden and diversify our solutions. Furthermore, ARELIS creates value through complete equipment designs and small systems, hardware and software. Our main target markets include detection and monitoring (radars, self-guiding systems), communications (data links, satcom, jammers...), and energy (conversion and energy management).

- Strengthen the company's skills and expertise in its core businesses by relying on new technologies developed by component manufacturers and technology start-ups. The technologies developed concern solid state RF components (AsGa, GaN, SiC, MMICs, MCMs, SiP), power components, high density circuits, mechatronics, assembly processes and electronic and microelectronic packaging.

On these two axes, our partnerships (collaborative developments) are privileged, particularly in the fields of microelectronics (manufacturers of components and substrates), mechanics and software. As part of the Edhicos project, a partnership with embedded circuit manufacturers, ARELIS is developing new technology solutions for inserting components and chips into electronic board substrates for a concentration of inserted components. ARELIS is also involved in electric aircraft research programs, including the development of thermoelectric energy conversion modules. As part of the Siemstack project led by Hypertac, ARELIS is responsible for designing electronic sub-assemblies operating at high temperatures.